If you wish, please sign your name to our Declaration, using the form at the bottom of the page.
DECLARATION
The Hopkins County We Will Build
We, the people of Hopkins County, Kentucky, hereby recognize the following truths and declare the following principles that will guide our thoughts and actions as we seek to build a bright, prosperous, and healthy future for all our people, where every child has a real and equitable opportunity to reach their full potential to become healthy, fit, educated, cared-for, productive, and engaged citizens.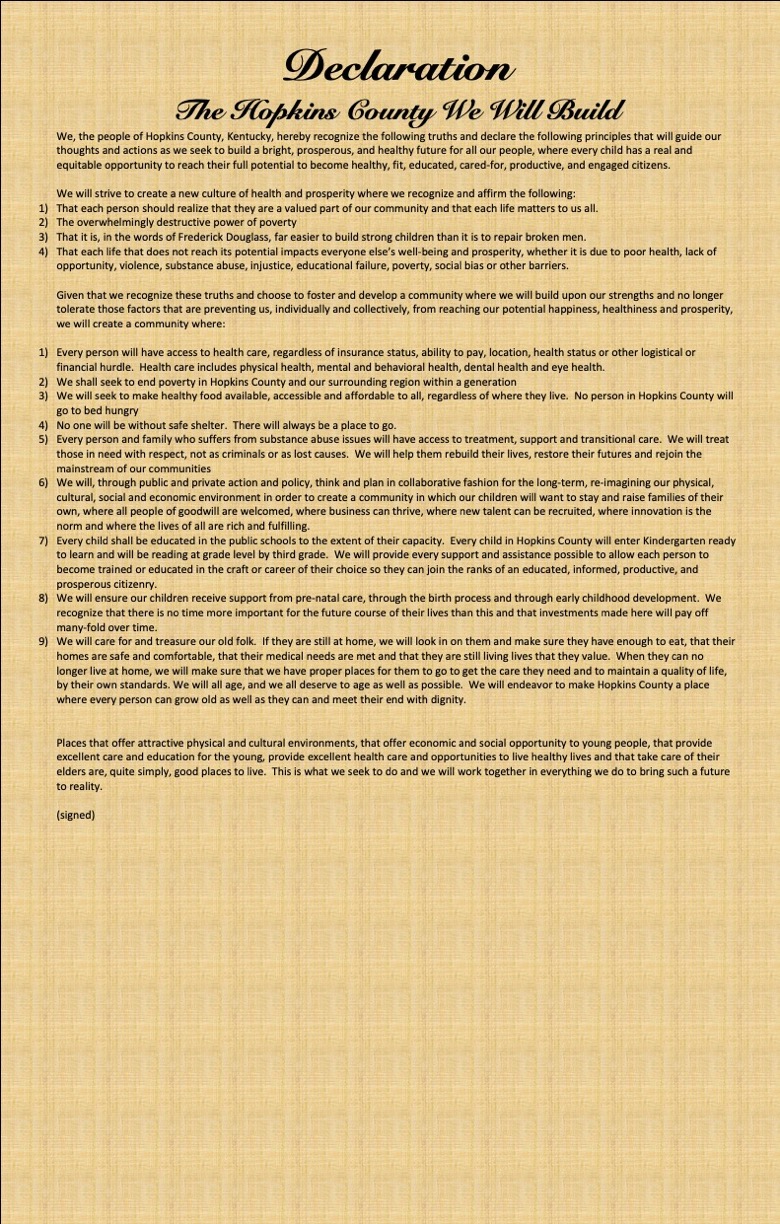 We will strive to create a new culture of health and prosperity where we recognize and affirm the following:
That each person should realize that they are a valued part of our community and that each life matters to us all.
The overwhelmingly destructive power of poverty
That it is, in the words of Frederick Douglass, far easier to build strong children than it is to repair broken men.
That each life that does not reach its potential impacts everyone else's well-being and prosperity, whether it is due to poor health, lack of opportunity, violence, substance abuse, injustice, educational failure, poverty, social bias or other barriers.
Given that we recognize these truths and choose to foster and develop a community where we will build upon our strengths and no longer tolerate those factors that are preventing us, individually and collectively, from reaching our potential happiness, healthiness and prosperity, we will create a community where:
Every person will have access to health care, regardless of insurance status, ability to pay, location, health status or other logistical or financial hurdle. Health care includes physical health, mental and behavioral health, dental health and eye health.
We shall seek to end poverty in Hopkins County and our surrounding region within a generation
We will seek to make healthy food available, accessible and affordable to all, regardless of where they live. No person in Hopkins County will go to bed hungry
No one will be without safe shelter. There will always be a place to go.
Every person and family who suffers from substance abuse issues will have access to treatment, support and transitional care. We will treat those in need with respect, not as criminals or as lost causes.  We will help them rebuild their lives, restore their futures and rejoin the mainstream of our communities
We will, through public and private action and policy, think and plan in collaborative fashion for the long-term, re-imagining our physical, cultural, social and economic environment in order to create a community in which our children will want to stay and raise families of their own, where all people of goodwill are welcomed, where business can thrive, where new talent can be recruited, where innovation is the norm and where the lives of all are rich and fulfilling.
Every child shall be educated in the public schools to the extent of their capacity. Every child in Hopkins County will enter Kindergarten ready to learn and will be reading at grade level by third grade.  We will provide every support and assistance possible to allow each person to become trained or educated in the craft or career of their choice so they can join the ranks of an educated, informed, productive, and prosperous citizenry.
We will ensure our children receive support from pre-natal care, through the birth process and through early childhood development. We recognize that there is no time more important for the future course of their lives than this and that investments made here will pay off many-fold over time.
We will care for and treasure our old folk. If they are still at home, we will look in on them and make sure they have enough to eat, that their homes are safe and comfortable, that their medical needs are met and that they are still living lives that they value.  When they can no longer live at home, we will make sure that we have proper places for them to go to get the care they need and to maintain a quality of life, by their own standards. We will all age, and we all deserve to age as well as possible.  We will endeavor to make Hopkins County a place where every person can grow old as well as they can and meet their end with dignity.
Places that offer attractive physical and cultural environments, that offer economic and social opportunity to young people, that provide excellent care and education for the young, provide excellent health care and opportunities to live healthy lives and that take care of their elders are, quite simply, good places to live.  This is what we seek to do and we will work together in everything we do to bring such a future to reality.
(signed)
Heath Duncan
Habitat for Humanity-Pennyrile
Region
Robert Brooks
Elizabeth Massey
Riley Dever
Bill Murphy
Anonymous
Russ Lewis
Tammy Dugger
Gita Rampersad
HEALTH Reimagined
Bonita Thorp
Matthew Tinsley
Michael Howard
ARCH Community Health Coalition, Inc.
Anonymous
Janet McClain
Darlena Jones
Debra Dexter
Beverley Mclean
Rhea Ashby
Sonja Collins
Jay Parrent
Chad Hart
Hopkins County Family YMCA
Tony Smith
LongView Development
Anonymous
L. Vannessa Frazier
Howardville Community Betterment
Katherine Jury
Anonymous
Jami Coyle
Heather Tow
Cheryl Redd
Joey Ashby
Stuart Sherrell
Shannon Bowles
Anonymous
Angela Carter
Pam Gentry
Anonymous
Felicia Eaves
Deborah Stanley
Lori Waide
Dennis Belcher
Clair Barnes
Kevin Moser
Anonymous
Justin Gossett
Anne Howard
Sara Adams
Tonia Leal
Anonymous
Pamela Coakley
James McClain
Charles Yarbrough
Rosenwald-Smith Multicultural Center
Christopher Hager
Bobby Cochran
Please use this form to sign the Declaration.  If you also want to sign up your organization or business, and you are authorized to do so, please include the name of the organization.